All Natural CBD Spray
The X-SPRAYS™ formula is a powerful blend of vitamins, nutrients and herbal extracts. Our sprays are fast acting, effective and of the highest quality.
X-SPRAYS ™ Quality
Formulation
We have taken great care to create excellence in our formulations. The products contain no artificial flavors or soy. We use no sugar, starch, wheat, soy, gluten, eggs, salt, or dairy. We use natural mint or fruit flavors. The products are suitable for vegetarians and vegans.
Dosage
Each X-Sprays oral spray gives a precise, metered dose of product with every pump, which allows the user to feel secure that she/he is receiving the correct dose each time.
Convenience
The spray tube will easily fit in your purse, pocket, or briefcase. There is no need to look for a glass of water to take a tablet, or count the number of drops under the tongue. It is perfect for traveling! The tube also protects the liquid from light and air, keeping the ingredients potent, with a much longer shelf life.
Bioavailability
Our product, along with being a fine mist spray, is also an emulsion, meaning that the active ingredients are fully dissolved and combined with the water in which it is sprayed, thus maximizing the bioavailability and quick absorption of the nutrients.
Safety
Our sprays contain no fillers, like tablets do; therefore the chance of an allergic or nauseous reaction is nearly zero.
Oral Efficacy
The oral spray delivery system has been studied and used in many pharmaceutical applications. It is an effective, comfortable and convenient way to take nutritional supplements, spraying directly into the mouth. This is especially true for people with dysphagia (trouble swallowing), the geriatric community, people with various physical and mental ailments, as well as those who travel frequently or are just tired of taking handfuls of pills.
Meet Dr. Clive Spray PhD
Our founder, Dr. Clive Spray PhD (yes, that's his real name), has dedicated his life to developing several formulas to help improve the quality of other people's health.
27
Published Papers
20
Years of Industry Experience
10
Innovative Formulas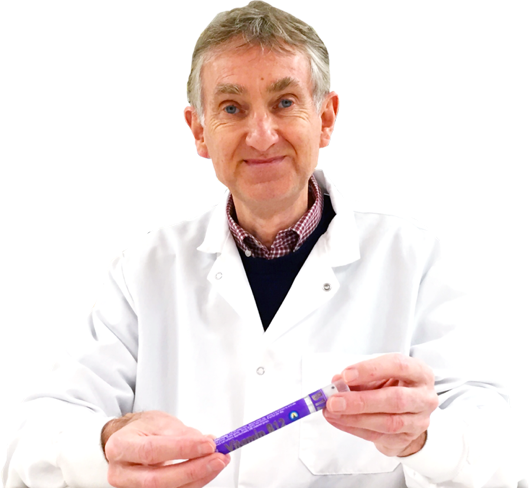 Which spray is right for you?
All of our products are clinically proven to be effective and safe.
"I like how they've separated all of them. You know which one to use at which time of the day or the evening."
Adam Evans
Youtube Influencer
"I've been using the Sleep, Energy and CBD formulas frequently. I really love the ingredients, the function and the way they taste." Whitney Lauritsen, aka Eco-Vegan Gal, ambassador of a lifestyle in harmony with the body and the planet.
Youtube Influencer





"After years of combating insomnia, SLEEP has finally given me a good way to get to bed without any needing prescription drugs."
Daniel W.





"I've been using the spray for the last year to recover surgery. I can honestly say that it has been extremely effective at managing my pain!"
Tucker W.





"At 68 with CHF, I need good sleep. I currently use X-SPRAYS™ SLEEP 3 sprays right before bed and it helps me to get 7-9 hours of restful sleep each night."
John T.
Frequently Asked Questions
Is CBD legal to use in all 50 states?
Industrial hemp is legal to process into various products, including CBD oils, as long as the products contain less than 0.3% delta-9 tetrahydrocannabidiol (THC). All of the X-Sprays products contain less than 0.3% THC. If you are inquiring to become a Wholesaler with X-Sprays, please check your local laws and regulations
Do you ship to all 50 states?
X-SPRAYS™ products contain less than 0.3% THC, and thus can be shipped to all 50 states. We are unable to ship to Canada at this time, but are working towards this in the future.
How do I use the products?
Simply shake the bottle before use, and spray away. Different people have different needs, but we recommend using 4 sprays over the course of a day for best effects.
Subscribe
Stay up-to-date with the latest X-SPRAYS news by subscribing to our newsletter.
[email-subscribers-form id="1″]